Indonesien / Bali / Ubud
It takes a little practice, sagt mein Hotelnachbar, to do nothing all the time. But it's great. Its mainly the protestant ethics that keeps you working. Seit sieben Jahren ist er hier, 2008 in der Finanzkrise hat er seine Kunden verloren: er hatte recht, die Papiere waren schlechte, sie wollten das nicht hören. Dann waren sie pleite und er bekam keine Aufträge mehr, seitdem ist er hier. Ohne jegliches Interesse, wieder business zu machen. Here is paradise, das reiche.
Ich mache heute einen Kurs in Silberschmieden, mit einer Muschel die ich in Lovina gefunden habe.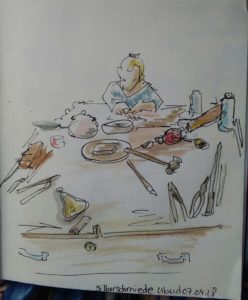 Kurs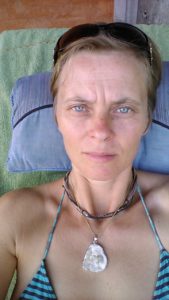 Kette
Anschließend organic local chocolate, Crêpe mit Buttersaltcaramel und Cappuccino. Auch paradise.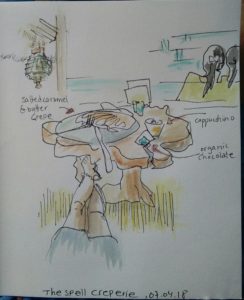 Crêpe
Die Straßenzüge gestalten sich im Übrigens etwa so: (Craft)shop | Café | (Kleider)shop | Restaurant | Shop | Spa | Shop | ATM | Shop | Tourenanbieter | Shop | …