Australien / Brisbane
Heute ist Puffertag. Nachdem ich gestern viel geplant und meine Weiterreise morgen organisiert habe, schiebe ich einen Tag Nichtstun ein. Jetzt sitze ich in einem kleinen Park in West End, mit Flat White und Toasties, und einer spielt an einem öffentlichen Klavier.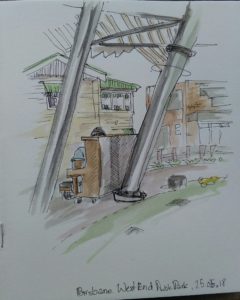 'Believe the impossible, become the impossible' -Park
Der Park ist 20x20m groß und sehr gepflegt, heißt: kurzgemäht und strukturiert. Eine kleine Oase mit alten Queensländer Häusern, alternativer Kultur und Charme. In West End gibt es sogar einen Zebrastreifen.