Laos / Luang Prabang – Vang Vieng
Mitreisende Mönche
Eigentlich wollte ich nicht nach Vang Vieng. Da ich in vier Tagen ab Vientiane nach Bali fliege, schaffe ich keine andere Route wie zb zur Nachtsafari oder der Ebene der Tonkrüge.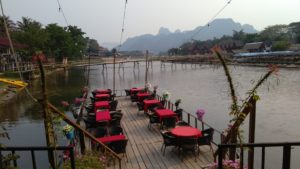 Nam Song
In Vang Vieng gibt es Fluss, Tubing, Kayaking, Höhlen, Berge, Kühe auf den Café-Terrassen und laut Musik (beides rechtes Ufer). Und noch lautere Longtail Touristenboote, wie beim Lake Inle.
Auf dem Schild in der Mitte der Brücke steht 'End of Tubing' (Ausstiegsstelle). Für mich steht da auch 'End of continental Southeast Asia'. Ein schöner Ort um zu überblicken, was bisher war (Festland Südostasien) und was jetzt kommt (Indonesien, Australien, Ozeanien?). Im Prinzip kann ich das zwar jeden Tag und überall; ich finde dennoch, das Schild kommt passend.